Improving health, environmental, and economic outcomes associated with agriculture, food, and nutrition
Some of the most complex issues faced by our global community encompass the food and agriculture sectors. Addressing these issues requires informed and innovative policy options with interdisciplinary perspectives. 
The RTI Center for Applied Economics and Strategy (CAES) provides clients with a full spectrum of analysis options. We use advanced tools and methods and leverage internal cross-disciplinary expertise, as well as longstanding global research partnerships. Our research portfolio ranges from region- and sector-specific economic studies that result in improved food choices and accessibility for consumers, to global assessments that incorporate health, environmental, and economic indicators to help agricultural markets work smarter.  
Our team evaluates impacts and policy options across climate change, global food trade, food accessibility, bioenergy, and health outcomes related to food production and consumption. This includes:  
modeling the impacts of climate change mitigation policy on the (1) agricultural and forestry sectors and (2) economy for the U.S. Environmental Protection Agency's (EPA's) climate change division; 

developing decision support tools related to international trade negotiations for the Trade Impact Model for the U.S. Department of Agriculture's (USDA's) Foreign Agricultural Service; 

supporting regulatory impact assessments in areas such as Renewable Fuel Standard for EPA, as well as ongoing analyses to understand the worldwide economic and environmental implications of biofuels;  

analyzing household and store scanner data to evaluate the effects of policy and develop food price measures;  

modeling food supply chains and regional food systems to assess economic, environmental, and social tradeoffs of policies and programs; 

and creating cost models, like the U.S. Food and Drug Administration Labeling Cost Model and FDA Reformulation Cost Model, for use in regulatory impact analyses. 
Our core team of applied agricultural, resource, and environmental economists is supported by experts in various other disciplines—including computer science, statistics, survey design, process engineering, geography/geographic information systems, and rural economy.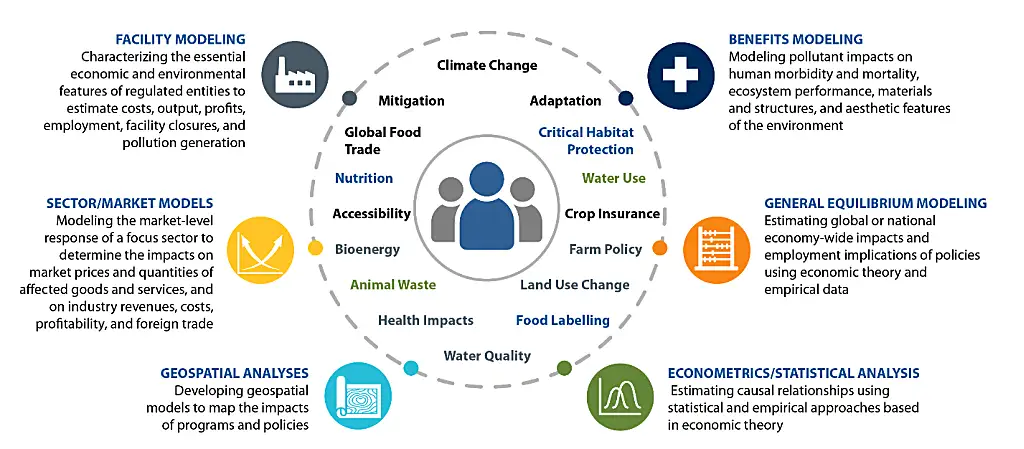 Our economists develop and utilize models that capture the essential economic and environmental relationships, employing a variety of analytical methods. Such tools can be leveraged to support decision-making and prioritization of resources across various applications. Policy options that can be evaluated include regulation, market-based policies, trade policies, and voluntary programs. Our team views study scoping and design as a collaborative process—one in which our clients not only value upfront discussions about the benefits and challenges across alternative approaches but also weigh options with project objectives to ensure successful outcomes.