Providing access to sufficient, safe, and secure food, energy, and water is a critical challenge threatening the human condition globally
We need water and energy to grow food; we require energy to process and supply clean water and safe foods; and we need water and food waste to produce energy. This highly interconnected relationship is known as the food, energy, and water (FEW) nexus. 
Recognizing that the FEW nexus is highly connected and interdependent, RTI takes an integrated approach to addressing FEW nexus challenges. We lead evidence-based and client-focused research and programs at local, national, and global scales. Our work supports clients to make informed decisions, strengthen management of natural resources, improve environmental health outcomes, and ultimately build a more resilient and sustainable future.
Our cross-disciplinary teams include experts in:
natural resource management
environmental engineering
environmental health
food safety and security
water resource management
climate change solutions
energy technology
international development
Building Resiliency in the Food-Energy-Water Nexus
While we rely on natural and human-made systems together, traditionally, research and decision-making processes focus on one lens at a time. To truly plan for resiliency across FEW systems, we must concurrently address unique natural resource management and environmental health challenges that vary spatially and temporally.

Environmental Practice Areas for the Food-Energy-Water Nexus 
We are committed to evidence-based research around system safety, security, equity, and allocation that supports informed decision making and effective solutions that account for rapidly changing conditions in climate, policies and regulations, technologies, and resource availability. Our approaches are designed to identify and take full advantage of synergies that exist between the FEW system.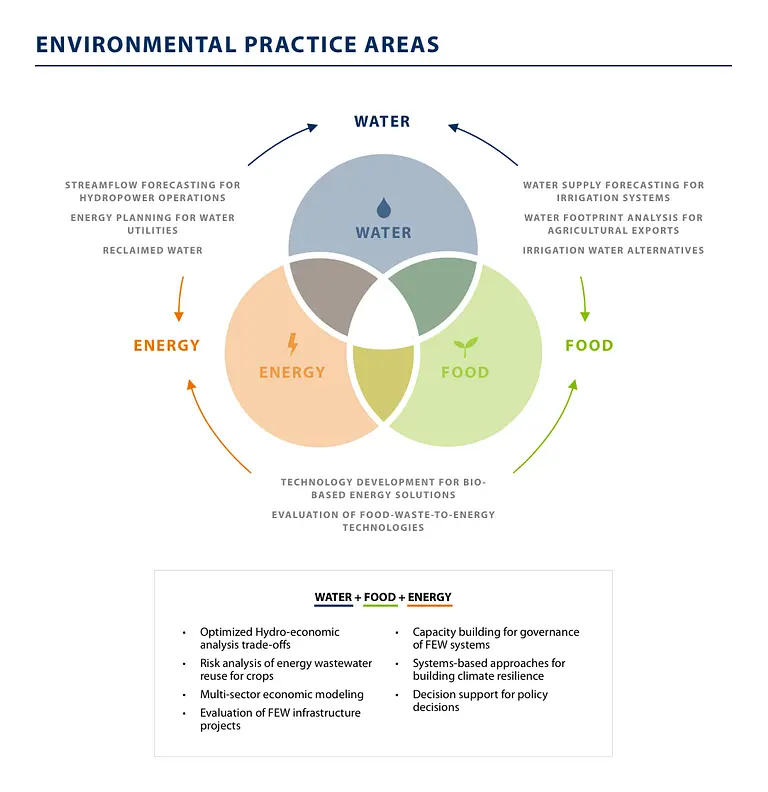 Sign up for our Climate Newsletter to stay up-to-date on our latest insights.