In 2010, more than 2.1 million burglaries occurred in the United States. On average, victims of burglary lost $2,119 in property, totaling more than $4.6 billion nationwide.
Research shows that burglaries tend to be localized. When one house is burglarized, nearby homes and streets see an increased risk of burglary over the next two weeks. In 2006, the National Institute of Justice recognized the magnitude of this phenomenon, referred to as "near-repeat burglary," and responded by implementing effective prevention efforts.
Developing the Near-Repeat Area Identifier Tool
To prevent near-repeat burglaries, it's critical to quantify the risk and determine the affected area. To support this risk assessment, our criminal justice researchers led an effort with Temple University and funded by the National Institute of Justice to develop the Near-Repeat Area Identifier Tool. This free, customizable tool determines locations that are at highest risk of being burglarized following a nearby theft, using crime and spatial data from participating law enforcement agencies.
Using the information and analysis produced by our tool, law enforcement agencies can implement prevention strategies more quickly to areas in need.
To determine whether prevention strategies are effective, law enforcement agencies can compare burglary rates across high-risk areas following an initial incident.
Testing Prevention Strategies
The team conducted randomized control trials in Redlands, California, and Baltimore County, Maryland, which differ significantly in terms of population and the number of annual burglaries. The population of Baltimore County is about 817,000 people, with 1,100 burglaries occurring each year. The county has 1,800 officers. Redlands has a population of about 69,000 people, with 353 burglaries occurring each year, and 80 officers in the city.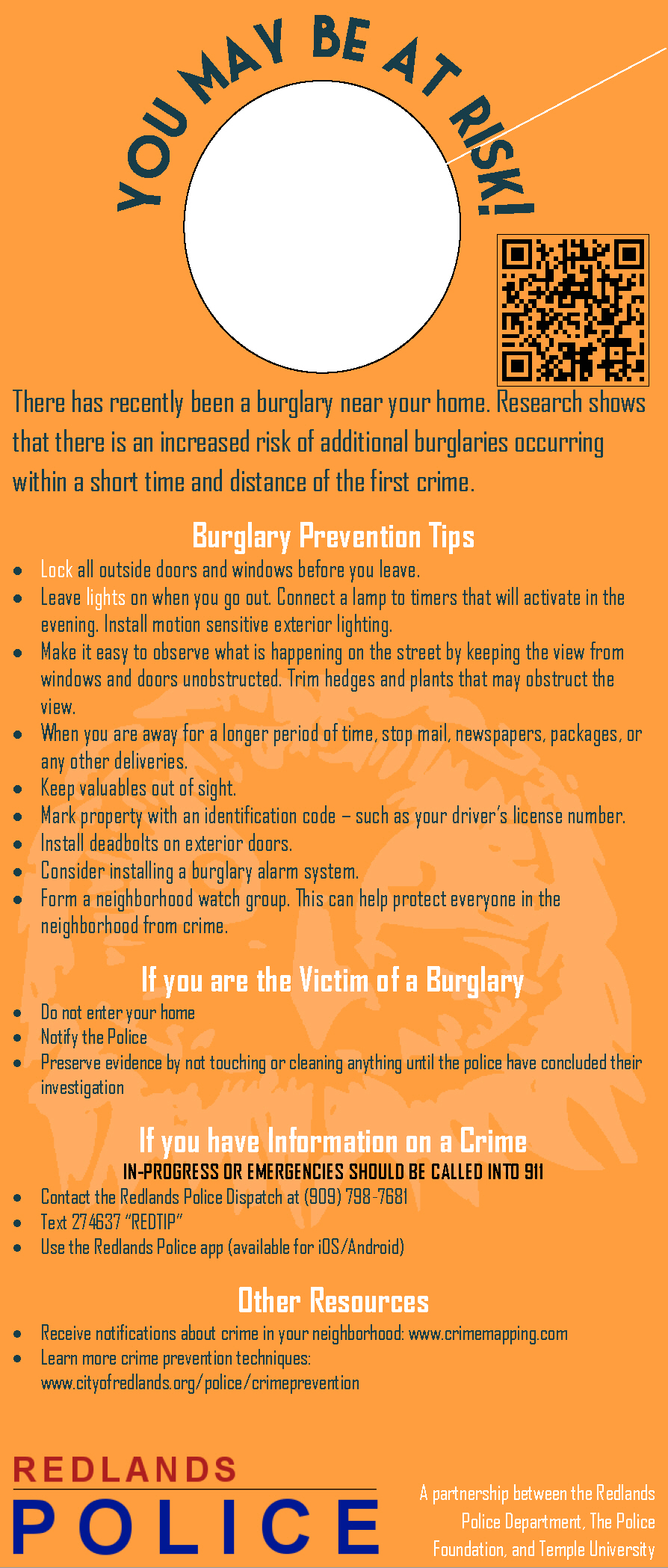 As part of our work to develop the Near-Repeat Area Identifier Tool, the research team sought to test whether quickly notifying community residents and providing prevention tips effectively prevented further incidents.
In each location, volunteers from the community disseminated hangtags, which our team created in partnership with agencies, to homes in neighborhoods where burglaries took place, alerting residents to the increased risk and providing tips for preventing burglaries within 48 hours of the initial burglary.
The trial ran for 15 months and revealed that although the rate of near-repeat area burglaries did not decrease, residents reported a positive perception of the program. In a community survey, 82 percent of respondents stated that the law enforcement agency was being proactive, and 100 percent said the agency should continue the program.
Ongoing Enhancements and New Tools Support Law Enforcement Agency Needs
Using initial findings from this research, our team is enhancing the Near-Repeat Area Identifier Tool and developing additional tools to assist crime prevention efforts.
Our research team is modifying the tool to increase flexibility for other agencies that may want to implement interventions to stem near-repeat area crime. The update will enable an agency to modify control and test areas during a test of prevention strategies as necessary—for example, if another burglary occurs.
We are also developing a separate tool using historical data to estimate the number of crimes that could be prevented in a high-risk area if the near-repeat pattern was disrupted.
Under these efforts, our researchers strive to continue to inform and help law enforcement agencies improve strategies for addressing near-repeat burglaries.
----------------------
This project was supported by Award No. 2012-IJ-CX-0039, awarded by the National Institute of Justice, Office of Justice Programs, U.S. Department of Justice. The opinions, findings, and conclusions or recommendations expressed in this publication are those of the author(s) and do not necessarily reflect those of the Department of Justice.