Veterans make up a significant percentage of our population both nationally and in North Carolina, where RTI is headquartered. Our military veterans offer diverse backgrounds, perspectives and experiences, and bring valuable leadership and technical skills to the workforce. RTI welcomes them because they enrich our culture and strengthen our organization.
Through volunteerism, veteran-focused employee programs, and research on topics that impact active duty service members and veterans, RTI has demonstrated a longtime commitment to creating opportunities for and improving the lives of those who have served in the military and their families.
Careers and Professional Networking for Veterans
One of the key ways we do this is hosting veteran networking sessions. As part of recruitment efforts for military veterans, RTI's Global Talent Acquisition Team welcomes veteran candidates to learn more about our employment opportunities and collaborates annually with Army Civil Affairs to help veterans transition to the nonprofit sector.
Another important component of our veteran support system is the Veterans and Allies Resource Group (VALoR). One of several Employee Resource Groups at RTI, VALoR provides a professional network, active community, and development opportunities for its members. This inclusive group welcomes all RTI employees who have served in their respective countries' military forces, those who are still serving, and all employees who support them.
Military Friendly logo for 2024
RTI is proud to be recognized as a Military Friendly® Employer, and we endeavor to continue enhancing the veteran experience and provide even more opportunities for veterans to contribute to and excel at RTI.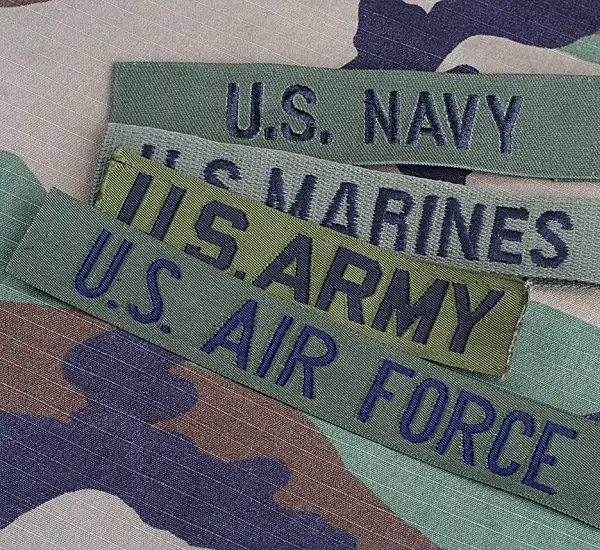 Patches from the branches of the U.S. military on a camouflage fabric background.
Our Commitment
Military veterans strengthen RTI through their leadership and professional skills and by bringing us together in pursuit of shared goals and objectives. Their valuable experiences and perspectives enrich our workplace culture and help us embrace our commitment to equity, diversity, inclusion, and belonging.
– RTI President Tim J. Gabel
A Few of Our Veterans Discuss Their Experiences at RTI
Mariel Christian
Senior Director, Library and Information Services and RTI Press
Mariel Christian comes from a military family. She grew up in Fayetteville, North Carolina. Her grandfather served in the U.S. Army, her father in the U.S. Air Force. After high school, she joined the Air Force, where she met her husband, and the family tradition continued when their son served in the U.S. Navy. Today, Mariel is the Senior Director of Library and Information Services and RTI Press, where she has found a culture open to the experiences of veterans like her.
We have a growing and vibrant culture of veterans at RTI. Our Veterans and Allies Employee Resource Group, VALoR, regularly solicits ideas about how we can be more inclusive of the military, and we see nothing but support of military friendly activities from our leadership. RTI has done a tremendous job in welcoming people with military experience and in helping them translate their skills to the RTI culture.
Tim Morgan
Education Analyst
Tim Morgan joined the U.S. Army Reserves in Ohio between his junior and senior year of high school. During his eight-plus years of service, he deployed on missions in Afghanistan and Iraq. After leaving the military in 2010, he completed an undergraduate degree in sociology and pursued a graduate degree in education, before joining RTI's Education Workforce Division in 2014, where he assists with longitudinal studies.
RTI reminds me in many ways of the military. You have individuals here from many different backgrounds coming together for one purpose, and the work ethic and attention to detail that you develop in the military are valued here. I've been able to flourish because RTI appreciates self-motivation and a willingness to get out of your comfort zone. I've found RTI to be a great place for veterans.
Dennis McGurk
Department of Defense Strategic Account Executive
Dennis McGurk spent more than 25 years serving in the Army, beginning as an infantryman in the Reserves. He spent most of his career as a research psychologist and medical research program manager. Dr. McGurk conducted theater-wide mental health assessments in Iraq and Afghanistan. Following his Army retirement, he joined RTI in 2020, where he is the Department of Defense (DoD) Strategic Account Executive and the Acting Director of the North Carolina Center for Optimizing Military Health and Performance (NC-COMP). 
I came to RTI because the mission of improving the human condition by turning knowledge into practice aligned very well with my values and what I did during my time in Service. In addition, RTI has very capable staff along with strong, local academic/industry partners and is close to key military locations such as Fort Bragg and Camp Lejeune. It's a great place to work if you want to help change the world.