In a nationally representative survey of state and local law enforcement agencies conducted by RTI International for the National Institute of Justice, 18 percent of unsolved sexual assault cases from 2003 through 2007 had forensic evidence that was not submitted to a crime laboratory for analysis. Unsubmitted sexual assault kits (SAKs) create delays in the justice system and, in some instances, deny justice to sexual assault survivors.
Research has shown that communities with large numbers of unsubmitted SAKs struggle to address systemic challenges. These challenges include having a limited understanding of the value of forensic evidence, lacking policies for evidence submission and analysis, and having weak interorganizational collaborations for victim-centered post-assault services. To address these challenges, solutions must not only promote cross-agency collaboration and training but also build information systems that help optimize forensic science resources and ensure accountability.
Implementing Training on Collection and Processing of Forensic Evidence for Sexual Assault Cases
In 2015, the Bureau of Justice Assistance selected RTI to provide training and technical assistance for its SAKI program.
The SAKI Training and Technical Assistance (TTA) program supports coordinated teams of police officers, prosecutors, crime laboratory professionals, sexual assault nurse examiners (SANEs), forensic medical personnel, and victim services agency members. SAKI TTA provides evidence-based, victim-centered, and sustainable practices; these practices help with collecting and processing forensic evidence, investigating and prosecuting sexual assault cases, and supporting sexual assault survivors. SAKI TTA offers the support that jurisdictions need to navigate the unique challenges associated with cold case sexual assault.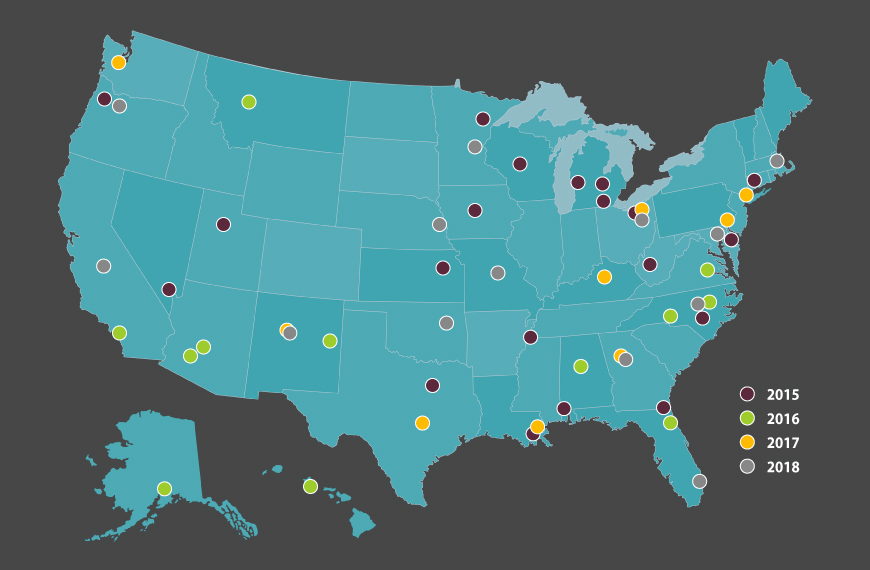 As of October 2018, 54 jurisdictions have been funded through SAKI—including 21 statewide sites. These jurisdictions receive customized TTA from our experts to effectively execute their SAKI goals and create a holistic community response to sexual assault that supports victim healing, holds offenders accountable, and improves public safety. This  program provides the support and resources needed to address unsubmitted SAKs—including support to inventory, test, and track SAKs; improve practices related to investigation, prosecution, and victim engagement; access necessary training to increase effectiveness in addressing the complex issues associated with these cold cases; and implement multidisciplinary policy development and coordination.
SAKI TTA provides the tools and resources that enable jurisdictions to address and reduce the number of unsubmitted SAKs; improve sexual assault investigative and prosecutive processes; and promote survivor healing by encouraging effective trauma-informed, victim-centered practices—including the following:
Creating and maintaining a sexual assault response team (SART) and multidisciplinary team
Identifying and implementing impactful investigative steps
Overcoming challenges related to cold case sexual assault prosecutions
Encouraging establishment of local SANE programs
Linking crime laboratory information systems with investigations and prosecutions
Developing strategies for victim notification, engagement, and support throughout the entire criminal justice process
Designing multidisciplinary, trauma-informed, and victim-centered training
By encouraging the adoption of data-driven and effective practices, we aim to facilitate the multidisciplinary SART concept—particularly in jurisdictions with a significant number of unsubmitted SAKs.
In support of SAKI, RTI leads a collaborative team of distinguished partners who represent relevant areas of expertise and interest; these partners include law enforcement officials, forensic medical personnel and SANEs, prosecutors, sexual assault response researchers, victim advocacy professionals, crime laboratory analysts, and curriculum development personnel.
Improving Sexual Assault Investigation and Response for Sexual Assault Victims
Our project activities enhance the understanding of sexual violence and trauma for law enforcement officials, forensic medical professionals, and prosecutors; additionally, such activities bolster the capacity of these groups to address sexual assault and respond in meaningful ways to sexual assault victims. As of June 2018, the project inventoried 53,929 sexual assault kits (SAKs) and sent 42,484 SAKs for testing. 
Table 1. SAKI Metrics
| SAKI Metrics as of June 2018 |   |
| --- | --- |
| Inventoried SAKs | 53,929 |
| Sent for Testing | 42,484 |
| Tested to Completion | 33,228 |
| Profiles Uploaded | 11,336 |
| CODIS Hits |  5,001 |
| Investigations | 4,602 |
| Cases Charged |  815 |
| Plea Agreements | 378 |
| Convictions | 98 |
As the metrics in Table 1 show, agencies with SAKI funding are seeing great results from testing their previously unsubmitted SAKs. From the 42,484 SAKs sent for testing, 33,228 have been fully processed—with 11,336 returning DNA profiles. When uploading the DNA profiles to the Combined DNA Index System (CODIS), those profiles have returned 5,001 hits supporting4,602 case investigations—with 815 of those being charged. Processing these SAKs has also led to 378 plea agreements and 98 convictions.
Our team also partners with law enforcement officials, forensic scientists, and legal stakeholders to collaborate and provide the necessary skills, tools, and knowledge to effectively investigate and prosecute sexual assault crimes. As of October 2018, we have conducted more than 40 webinars, produced more than 30 briefs, and provided more than 70 in-person TTA events. Additionally, we created the SAKI Toolkit and SAKI Virtual Academy, which are web-based resources designed to create customized curriculum supporting the SAKI holistic approach to sexual assault response reform.
The SAKI Toolkit offers hands-on resources tailored for the community of practitioners working to respond to cold case sexual assault. Toolkit users can explore key categories of sexual assault response reform, browse topics centered around skill development, and save tools to a customizable dashboard known as the briefcase.
The SAKI Virtual Academy, an online learning platform, offers five e-learning curricula covering the key steps to sexual assault response reform. The curricula are broken out into a total of 24 separate e-learning modules to allow learners to complete courses at their own pace. Throughout each course, learners complete knowledge checks and case study challenges to assess their comprehension of the course content.
SAKI TTA routinely educates more than 1,500 national sexual assault response professionals through briefs, SAKI Toolkit, Virtual Academy, and webinars. All SAKI TTA materials are housed on the SAKI TTA website (www.sakitta.org) and are available to all agencies for free.
Ultimately, the SAKI program will continue to make communities safer and improve the nation's criminal justice system by delivering evidence-based practices and knowledge to those who work to support victims of sexual assault and other violent crimes.