Newsroom
RTI recognized for role in award-winning work to assess dam risk in North Carolina
Study helped NCDEQ evaluate and prioritize dams at risk during Hurricane Ian, other flooding events

RESEARCH TRIANGLE PARK, N.C. — Researchers at RTI International, a nonprofit research institute, recently received recognition from the North Carolina Department of Environmental Quality (NCDEQ) for a study that assessed the potential of dam overtopping in the Cape Fear watershed, which includes nearly 300 dams.
The results from the study help NCDEQ evaluate and prioritize dams at risk from overtopping during real and hypothetical flood events. During Hurricane Ian in 2022, for example, NCDEQ used the study data to identify and closely monitor dams that were at most risk of overtopping. Data from the study has since been incorporated in the state's Dam Watch software that is designed to alert decisionmakers when a dam is at risk of overtopping, which can lead to potential failure or other safety concerns.
"Our work on behalf of NCDEQ has been truly rewarding and allowed us to apply our hydrologic modeling and dam safety expertise for real public benefit," said Katie van Werkhoven, Ph.D., a senior water resources engineer at RTI. "Dam safety is a critical component of environmental protection and emergency management."

Dr. van Werkhoven represented RTI at a brief ceremony in Raleigh and received a special coin from NCDEQ Secretary Elizabeth S. Biser as acknowledgement of RTI's work.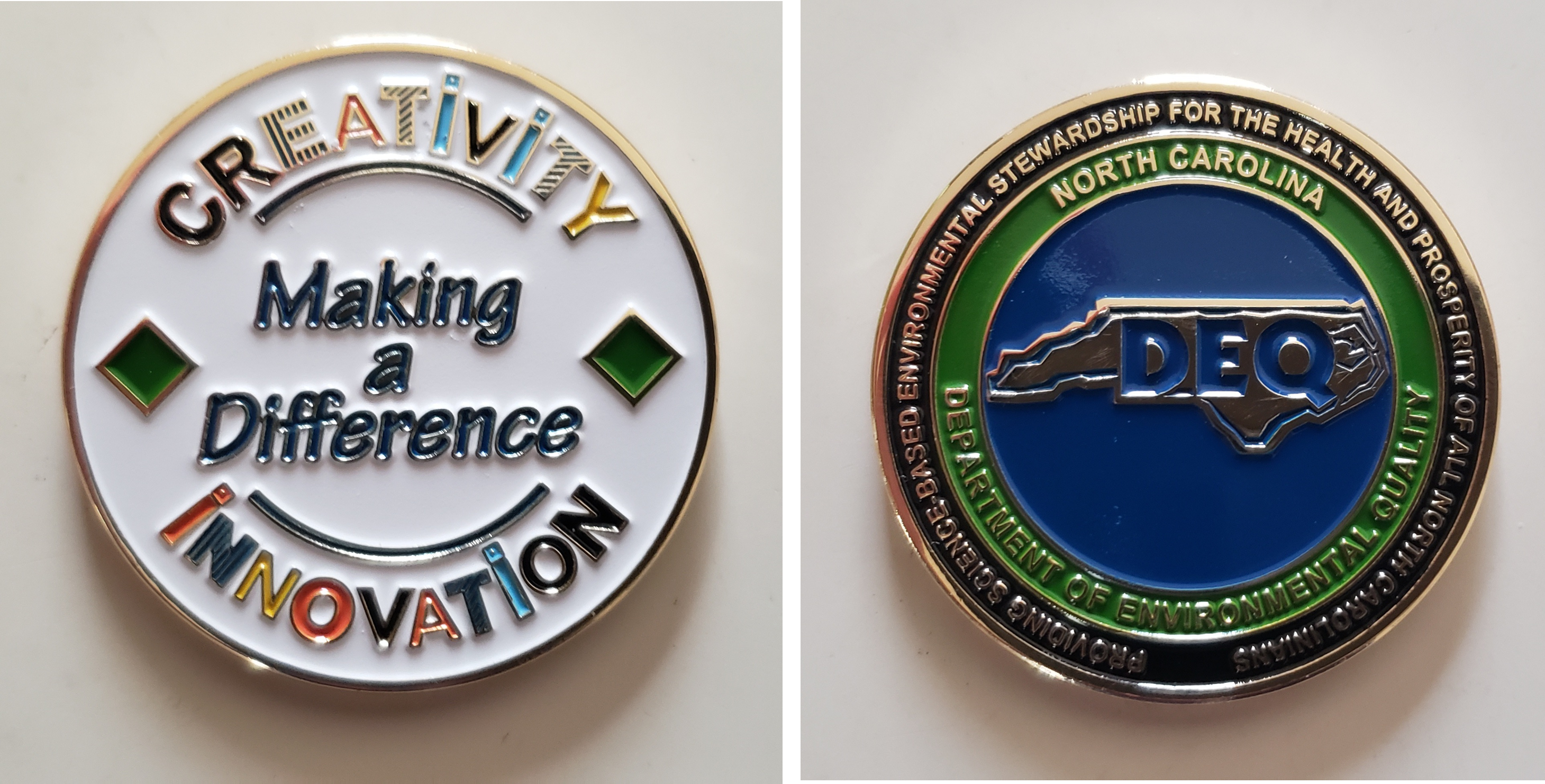 Front and back of coin awarded to RTI team

RTI's dam assessment study was part of a larger NCDEQ effort that received the Southeast Regional Award from the Association of Dam Safety Officials, which concluded that the agency had "initiated several innovative projects to provide for the safety of dams, reduction of risks and benefits for the state."
According to the Association of State Dam Safety Officials, hydrologic overtopping is the primary failure mechanism for dams. With 91,647 dams in the U.S., most have limited information regarding the potential for overtopping. Studies and approaches like that conducted by NCDEQ are helping to improve dam safety in local communities, according to RTI experts, and with the continued evolution of new tools and technologies, is making this critical information more accessible to dam safety teams and emergency managers.
Learn more about RTI's hydrologic risk assessment work
Meet the Experts
Media Info
To request an interview, contact our Media Relations team.