Delivering science-based solutions and technical services to improve lives around the world
As both a global research institute and a leading international development organization, RTI combines our project implementation and technical expertise with those of our partners to co-create smart, shared solutions for a more prosperous, equitable, and resilient world.
For over 15 years, we have collaborated with clients and partners in Jordan to advance sustainable, multi-sectoral solutions for the most difficult development challenges. In all that we do, we strive for transformative change built on equity and inclusion.
Our experience in Jordan ranges from improving early education—including research on early childhood development of refugee populations and analyzing Kindergarten attendance—to conducting a study on investment in tobacco control and increasing business skills of youth. We have also helped improve water sector governance to strengthen water security and worked to increase women's participation in the energy sector.
Learn more about our global reach.
Our Recent Project Experience in Jordan
| Project | Duration |
| --- | --- |
| Early Grade Reading and Mathematics Initiative (RAMP) | 2015–2022 |
| National Education Surveys in Jordan | 2011–2015 |
| Institutional Support and Strengthening Program | 2011–2014 |
| Impact Evaluation of the Millennium Challenge Corporation's Compact with Jordan | 2012–2014 |
| Evaluation of the Jordan Education Initiative | 2007–2008 |
Featured Topic
Reading and Math Program (RAMP)
RAMP supports the Ministry of Education to (1) improve early grades curricula, develop and distribute improved learning materials; (2) train and coach school personnel and administrators to provide more effective instruction; (3) promote parental involvement in reading and mathematics education; and (4) support nationwide adoption of early grade reading and mathematics policies, standards, curricula, and assessments.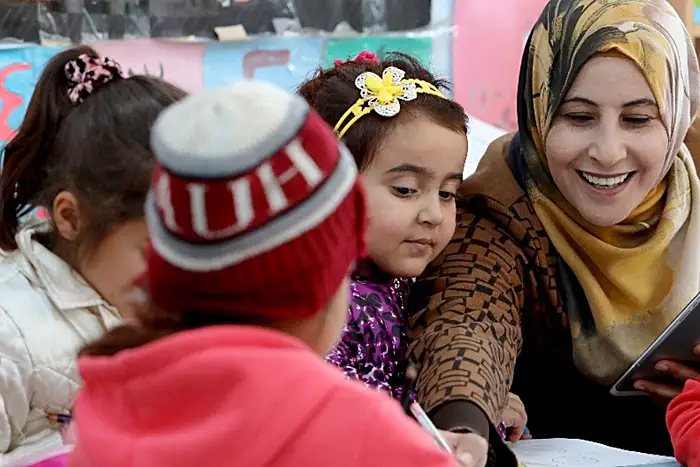 Our Experts
RAMP's Impact
0
public schools participated