Police agencies must analyze the demand on their resources and personnel. With too little time and too few resources for nonessential functions, there is high demand for public safety resources, so police agencies must be as efficient as possible. As the public demands increased accountability for all aspects of law enforcement functions, police agencies must justify operational and strategic decisions to demonstrate transparency and their commitment to public safety.
Calls for service (CFS) drive the demand for public safety and emergency service resources. CFS data are the primary measure of operational demands and the ideal subject of analysis to determine strategic priorities.
Ensuring Law Enforcement Activities Align with Public Safety Needs
Our experts collaborated with public safety officers and analysts to create a web-based application that processes and analyzes a police agency's CFS data. The purpose of this tool—CFS Analytics™—is to make CFS data analytically accessible so that an agency can gain greater insight into operational and strategic issues.
The application unlocks valuable, complex data and breaks down raw CFS records and presents them in a user-friendly and intuitive interface. The application runs on existing hardware to ensure a streamlined installation process and maximum user accessibility. The application features visualization tools that allow users to quickly analyze variability in demand on resources.
CFS Analytics helps you visualize the allocation of patrol resources and easily identify the proportion of patrol resources dedicated to specific activities, like citizen-initiated calls and self-initiated calls. With the example above, you can easily see where citizen-initiated calls increase through daytime hours while proactive activity remains fairly constant. This can help decision makers determine how many officers are available at any given time to engage in higher levels of proactive activity.
New Insights Promote Informed Resource Decisions
CFS Analytics helps to justify budgets by demonstrating the demands on a police agency's resources. The application also assists in identifying operational "chokepoints" where resources are outnumbered by demands.
Efficient analysis and visualization of these data provide great insight into operational and strategic challenges and further support law enforcement agencies in their duty to keep citizens and communities safe.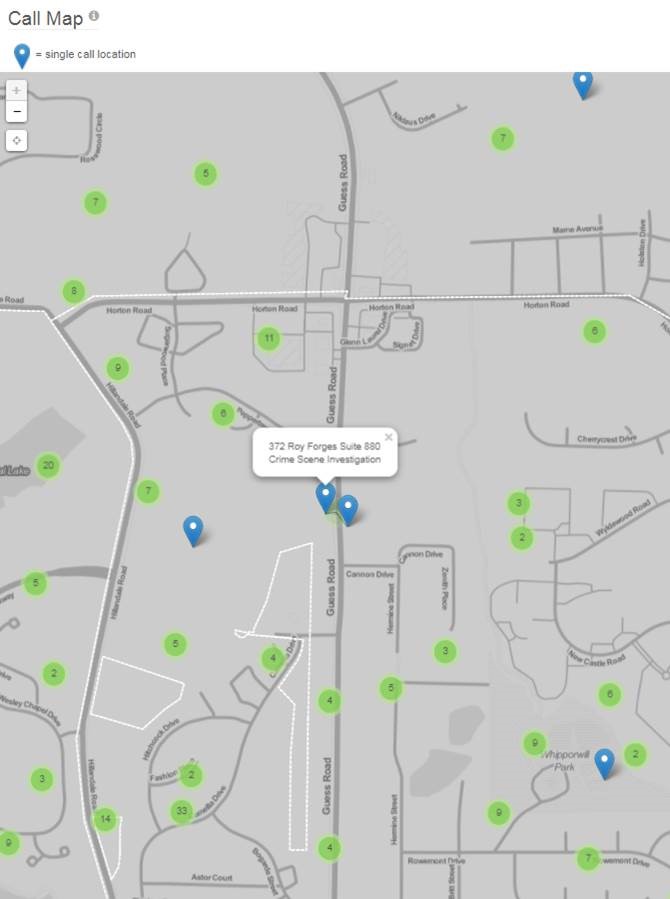 The tool visualizes CFS data in a way that readily identifies patterns and trends for users. The visualization as seen here groups calls-for-service by their address to identify high call volume locations. Users can then drill down to specific addresses to see what types are occurring with the greatest frequency. The tool aggregates high call volume locations from the jurisdiction-level down to the block-level, as see in the example above.