Strengthening control and elimination efforts globally
Malaria is a preventable and treatable infectious disease, transmitted by mosquitoes, that kills half a million people each year. The burden of malaria contributes significantly to perpetuating global poverty and underdevelopment—Africa's economy alone is estimated to lose $12 billion annually to malaria.
RTI works to scale up the fight against malaria by strengthening approaches to prevention, patient case management, vector control and surveillance, as well as building sustainable implementation platforms for country-led programs. We partner with national malaria programs to develop technical and operational approaches that build on existing structures, integrating program implementation and capacity building based on global and national best practices, policies and strategies.
We innovate by using mobile-based technologies for more efficient operations, enhancing disease surveillance and improving budgeting for programs to implement more targeted and prioritized intervention packages, and increasing community-level engagement for increased access and adoption of interventions as well as long-term programmatic ownership and sustainability.
Featured Topic
Community Involvement Drives Action Against Malaria in Guinea
More than 2.3 million cases of malaria were reported in Guinea in 2021 alone, with children and pregnant women being particularly vulnerable to contracting it. Building on five years of progress achieved under the RTI-led USAID StopPalu project, USAID StopPalu+ operated in half of Guinea's 38 districts and 5 communes of Conakry to help the country achieve its national goal of reducing malaria by 75%. The project strengthened community health by increasing community involvement and building local government and health provider capacity to monitor, prevent, diagnose, and treat malaria effectively.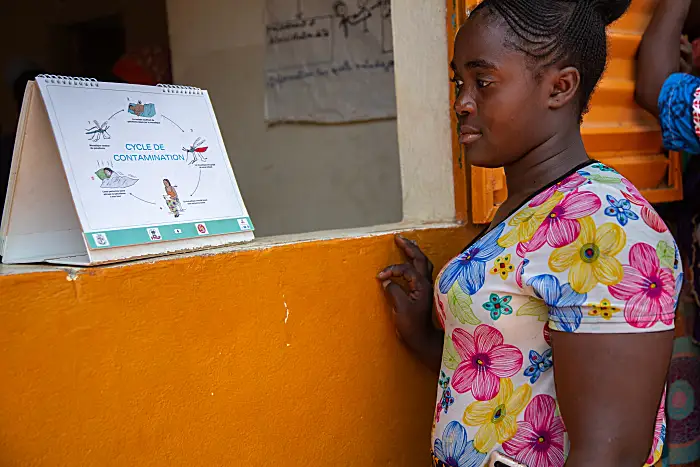 StopPalu+ outcomes since 2018
0
Million bed nets delivered to communities
0
Million doses of preventive medicine given to young children