Many are unaware that problems related to public transportation, commuting times, access to food, healthcare conditions, climate change modelling, and much more can be addressed with geospatial analytics. The convergence and integration of geospatial technology with mainstream technologies used by governments and public safety organizations is driving the geospatial analytics market from $40.7 billion to a projected $86 billion by 2023. The industry continues to grow quickly, but the demographics of the geospatial analytics workforce is remains skewed. With minorities largely underrepresented—there are almost twice as many males than females working in this market—we need to push for change.
RTI International is working towards this change with its sponsorship of North Carolina State University's Geospatial Applications for Problem Solving (GAPS) program. GAPS offers experiences during the school year and summer for minority high school students eager to explore many of the exciting topics enhanced by the cutting-edge technologies used in geospatial mapping and analysis. Through this program, we hope to raise awareness of these technologies and get high school students interested in geospatial analytics and potentially a post-secondary level degree or a career in this field.
The GAPS Summer program is four days of geospatial career and education exploration with two days at North Carolina State University, a day at RTI International headquarters, and a day at NC Museum of Natural Sciences. I recently hosted the RTI International GIS in Action event with my Geospatial Technologies team. It was an opportunity to showcase the broad range of problems that RTI aims to solve and give the participants a hands-on learning experience. Amy Tonsi-Vargas shared a history of RTI, its program areas, and example projects with the students. We then sent them outside to collect geospatial information using a rapid mobile data collection app and take inventory of recreational opportunities on RTI's RTP campus. We asked them to create new ideas for recreational opportunities using this technology and received answers such as adding a soccer field, tennis court, and a fish dock for the pond. Here is a map showing the data we collected: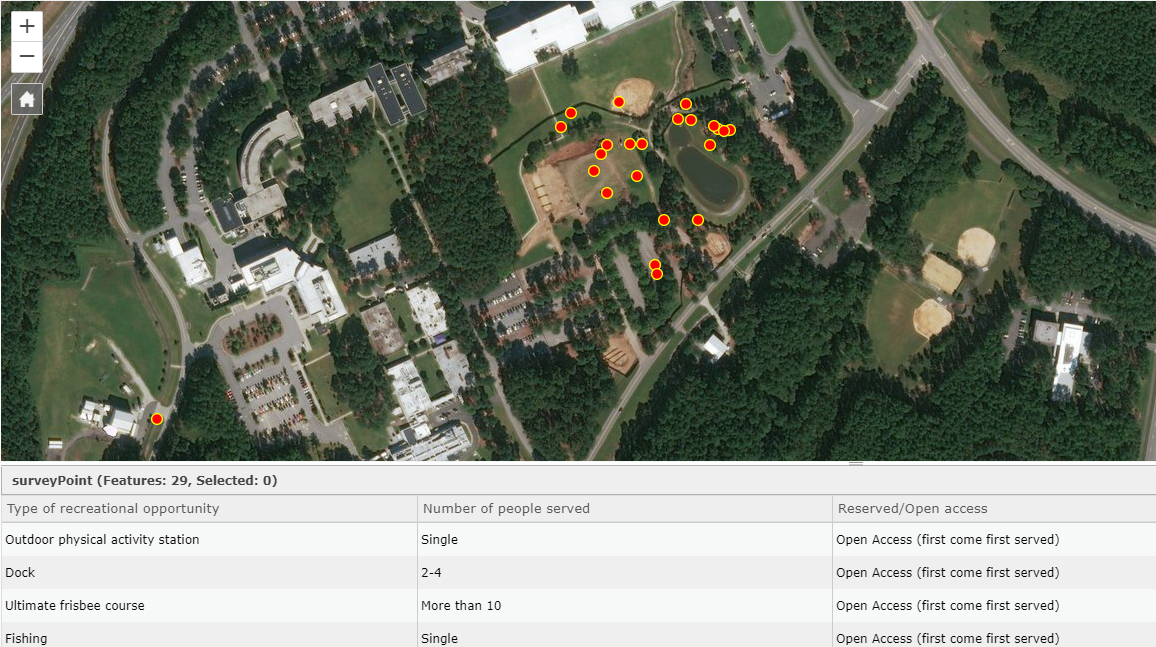 We are excited to see the progress of students in the free eight-week program during the fall and spring, and look forward to hosting a visit to RTI by GAPS students again next summer.
To learn more about the GAPS Program, please visit https://gaps.cnr.ncsu.edu/.
For more information about RTI's Geospatial Science & Technology, visit https://www.rti.org/service-capability/geospatial-science-technology-and-visualization.