Pathways to Progress: Leadership in the 21st Century
---
We live in a time of tremendous need: conflict and crisis forcing tens of millions of people to flee their homes, famine threatening more people than at any time since World War II, chronic diseases causing untold suffering, disability, and early death, structural inequalities burdening the people who need the most support.
Yet, this is also a time of enormous possibility. In the past 25 years, extreme poverty has been cut in half, 122 million children's lives have been saved from disease, malnutrition, and other misfortunes of circumstance, global coverage for the basic package of childhood vaccines is at record highs, and research and innovation are revealing new pathways for progress.
Despite our successes, we are not guaranteed to continue to make progress in solving the world's most pressing challenges. To find new pathways we must commit ourselves to twenty-first-century leadership that looks outward, looks upward, and empowers others.
Looking Outward
What I mean by "looking outward" is having a global perspective. As one of my heroes—and the Peace Corps' first director—Sargent Shriver, once said, "Today no nation belongs solely to its citizens, or its ideology or its art, science, or its vision for the future…. In the new world, recognition of our common existence is the precondition of a secure existence."
Today we're more interdependent than ever: our economies, our technologies, and our health. Pathogens have no respect for borders. Neither does a mosquito. Almost a century ago, the Spanish flu pandemic killed tens of millions of people worldwide. At the time, air travel was in its infancy. Jet travel was still a dream. Today, on average, more than 10 million people board an airplane every single day. Imagine the chaos a lethal pathogen could wreak on the modern world.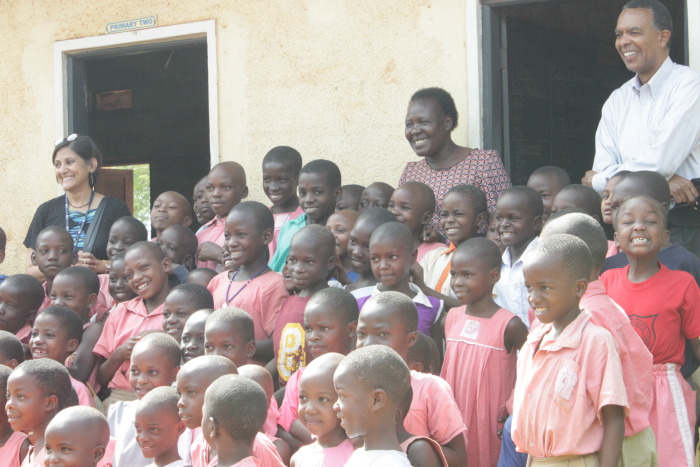 In fact, over the past three years, the CDC has monitored more than 300 infectious disease outbreaks, in 160 countries. RTI leaders with the skill and training to monitor, detect, and respond to these threats have served on the frontlines of the Ebola and Zika outbreaks and other crises. The world needs more of the types of leaders here at RTI—leaders who use science to solve our challenges and who champion international understanding and respect as tools to enhancing response efforts and improving our problem-solving capabilities. Communication, empathy, and seeing the world from diverse perspectives are indispensable for building shared progress.
Our researchers connect the dots on which human well-being depends, from nutrition to sanitation to child survival to women's empowerment to economic development and beyond. They know that these dots reach all the way around the world and back again. And they know that U.S. health and development programs around the world are valuable investments—building a better tomorrow for our neighbors, while benefiting Americans too.
In the words of Bill Gates, "When you help a mother save her child's life, she never forgets." In my view, our security, our prosperity, and our moral leadership are enhanced when we help others.
Looking Upward
Whether we're talking about preventing cancer or combating obesity or making sure that every person on this planet has access to clean water and air, the problems we're setting out to solve are hard. They demand a special courage and confidence. Breakthroughs depend on people who are willing to keep asking themselves "What if?" even in the face of obstacles and skepticism and setbacks.
What if we could fight the Zika virus using the same antibodies that combat Dengue fever?
What if we could reduce emergency room visits by improving city water access?
What if we could make it easier for mothers and newborns to enjoy skin-to-skin contact after delivery?
What if we could help girls develop healthy bodies, minds, and relationships, starting in adolescence?
What if we could teach sex education to middle schoolers via their phones?
The answers to these "what if" questions are emerging right here at RTI thanks to our motivated, dedicated researchers—individuals who are working together on research and innovations that can help improve the human condition. Over the course of my career, I've been fortunate to have worked with some of the world's most visionary leaders. At RTI, I'm proud to say I work with some of science's and international development's most visionary leaders. Many of them have followed a calling—putting themselves in harm's way to help others, committing themselves to rigorous research, forging relationships to help the neediest among us around the world, driven by "what if." Their can-do spirit, their passion and commitment, inspire me every day.
Empowering Others
True leadership is about focusing on others. When we devote our attention to others we reveal the best aspects of ourselves. When we strive for connection, when we offer compassion, we unleash the gifts at our core.
Last year, a student at UNC's world-renowned Gillings School of Global Public Health told me she attended the school for its emphasis on "the human side of science." At RTI, we merge humanity and science. At our global headquarters in RTP, we recently opened Horizon Building, a state-of-the-art home designed to convey who we are: a blend of science/technology and nature/humanity. In this building, our diverse workforce comes together around big ideas, while putting people and community first. We don't pursue science for science's sake—however cutting-edge it may be. We do it because every practice, every policy, exists to make a difference in someone's life. We believe that social justice and science should work together.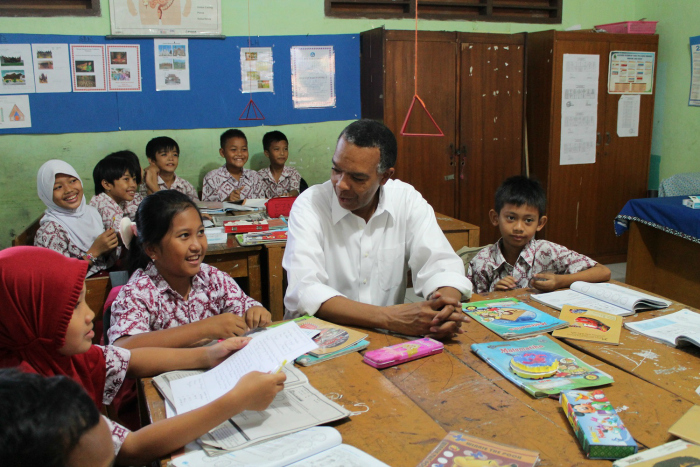 Our future
Raised in a working-class neighborhood in Chicago's South Side, I was the first in my family to graduate from college. My relatives expected me to do something practical, to start my teaching career. But I was inspired by President Kennedy's call to public service. I applied to the Peace Corps. The flights that took me to California for training, and then on to the Dominican Republic, were the first time I'd ever been on a plane. I worked in a small town in the Dominican Republic, helping a group of primary-school teachers to earn their high school degrees. They wanted to improve, to access better opportunities. I was determined to help them succeed. It was an awesome responsibility for a 20-year old. Sometimes I felt I was in over my head. But I learned a lesson that has guided and inspired my work ever since, from USAID to the Peace Corps to RTI: When people join together in common cause, we can achieve extraordinary things.
General Stanley McChrystal, former commander of Joint Special Operations Command, and now chairman of the Aspen Institute's Service Year Alliance, which is aimed at fostering large-scale service in communities across the country, said, "Leadership is not about you, it's about the work you do…. That's what matters."
At RTI, we conduct the kind of work that matters most of all: The kind of work that helps the needy, heals the sick, educates children, builds emergency-response capabilities within communities and nations, and enables people to make the most of their own lives.
If we keep looking outward, looking upward, and empowering others, the world will be a better place.
Aaron Williams is RTI's former vice president of international business development and former director of the U.S. Peace Corps. RTI recently honored him with Emeritus status in recognition of his distinguished career in public service.