How can policymakers from low- and middle-income countries determine their country's economic growth potential? How can policymakers use and communicate data effectively to determine how to move forward with strategies to remain competitive in the global marketplace? There are various measures available, and various ways to interpret that data.
Countries around the world are embracing innovation as a tool for economic growth, and national polices around the world are highlighting increased public and private awareness of the value of innovation for economic development. Studies show that there is a strong relationship between investment in innovation and economic output. Top performing countries, such as South Korea and Sweden, can credit their rankings to investments in human capital and research & development. Constant innovation is a key to remaining a top competitor in the global marketplace. Emerging countries such as Chile and Malaysia are increasing their investments in innovative activities to export higher value-add goods.
For countries to compete and grow, investments in R&D and education are critical. To benchmark their progress, policymakers rely on data to understand how their country is trending over time and how peers and competitors are trending. Low and middle-income countries, for example, invest in innovation to create high-value employment opportunities to try to avoid the "middle income trap" of stagnation. Currently, there are several analytical approaches that exist to index and rank country-level innovation, including large data sets from organizations like the World Bank and UNESCO, and indices such as the Global Innovation Index. Each is valuable, but the large data sets require a detailed understanding of the data, and indices are subject to the biases of methodology and the data selected and weighted by the creators.
To aid policymakers in analyzing data more transparently, RTI developed an innovation-led economic growth framework and accompanying innovation indicator data tool to illustrate countries' economic growth and innovation capacity over time. Our approach builds on existing national innovation metrics, but is designed to clearly communicate publicly sourced indicators that emphasize changes and interrelationships between different indicators. Our dataset is intended to be a starting point for applied policy makers in future work, including market landscaping, country-level diagnostics, and qualitative protocols for research.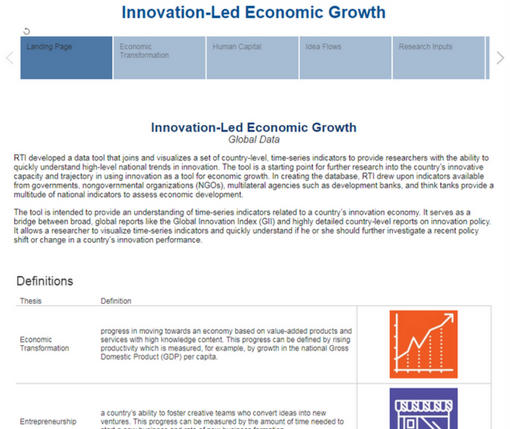 We have demonstrated our data to applied policymakers in the Philippines and Guatemala, generating a positive discussion about what middle-income countries can do to be more competitive. We hope to communicate with more applied policy makers through our indicator dashboard to provide a starting point for further research into a country's innovative capacity and trajectory in using innovation as a tool for economic growth.
To keep our dataset relevant, we are continuously working on updating and expanding our dataset as new information is provided. We hope that our tool will not only provide policymakers with reliable data, but also push more countries towards using innovation as a determinant for economic growth.
More detail on RTI's framework and innovation indicators data can be found in the full paper, "Quantitative Indicators for Country-Level Innovation Ecosystems."