Newsroom
Kelly Keyes elected president of International Association of Coroners and Medical Examiners
Keyes, a research forensic scientist at RTI, will serve a two-year term

RESEARCH TRIANGLE PARK, N.C. — Kelly Keyes, research forensic scientist at the nonprofit research institute RTI International, has been elected as the 2023-2025 president of the International Association of Coroners and Medical Examiners (IACME).
Established in 1927 and dedicated to the promotion of excellence in medicolegal death investigation through collaboration, education and accreditation, IACME has more than 2,600 members representing all 50 U.S. states and 32 countries. Keyes will serve a two-year term.
A board-certified medicolegal death investigator (MDI) with diplomate status within the American Board of Medicolegal Death Investigations, Keyes' experience includes 24 years in the coroner division of the Orange County (CA) Sheriff's Department, a large metropolitan coroner's office that serves as the state training center for all death investigators in California.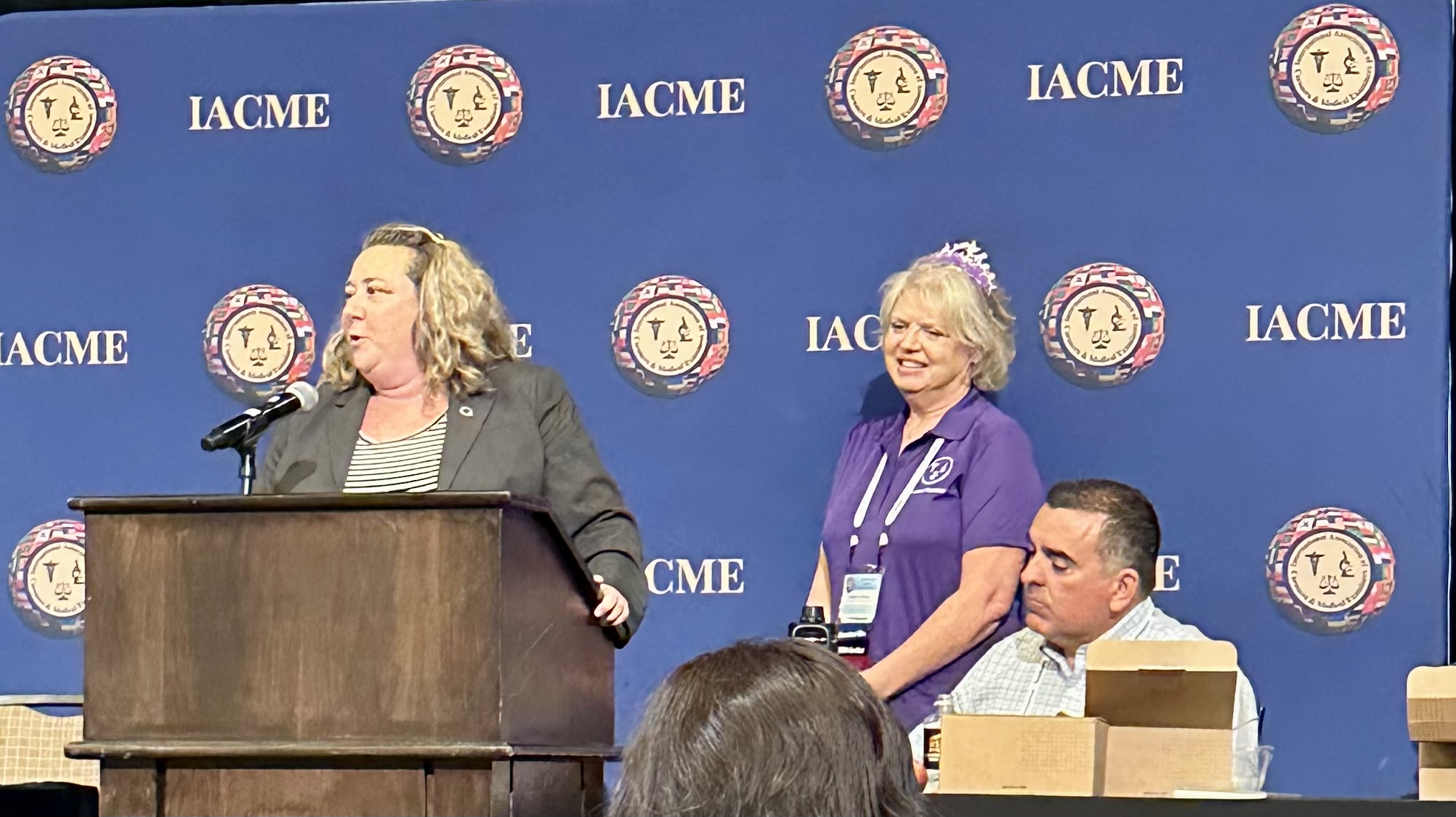 Photo: Keyes (left) addresses IACME membership on Wednesday for the first time as president

Keyes — who worked in all units of the office, including over 10 years as a supervising investigator — has conducted and supervised death investigations of all types, including homicides, overdoses, suicides, child deaths, law enforcement and in-custody deaths, work-related injuries and natural deaths both in and out of hospital settings. She oversaw the unidentified decedent cases for her office, using newer technologies such as genetic genealogy to identify several older cases. During her tenure at the Sheriff's Department, Keyes investigated and supervised more than 15,000 death investigations, some of which were high-profile, and certified more than 4,400 death certificates.
At RTI and in her previous position, Keyes has led or supported projects that focus on medical examiner and coroner office and laboratory efficiency, program monitoring and evaluation, technology transition, technology evaluation, forensic databases, MDI health and wellness, and professional development and training in the criminal justice system.
Keyes has served on the MDI subcommittee of the National Institute of Standards and Technology's Organization of Scientific Area Committees since its inception and currently chairs that group. She is a subject matter expert on investigating and certifying disaster-related deaths, medicolegal death investigations systems and improving the completeness and specificity of drug information on death certificates.
Meet the Experts
Media Info
To request an interview, contact our Media Relations team.