Veteran Opportunities at RTI
Veterans make up a significant percentage of our population both nationally and in North Carolina, where RTI is headquartered. Our military veterans offer diverse backgrounds, perspectives and experiences, and bring valuable leadership and technical skills to the workforce. RTI welcomes them because they enrich our culture and strengthen our organization.
Through volunteerism, veteran-focused employee programs, and research on topics that impact active duty service members and veterans, RTI has demonstrated a longtime commitment to creating opportunities for and improving the lives of those who have served in the military and their families.
One of the key ways we do this is hosting veteran networking sessions. As part of recruitment efforts for military veterans, RTI's Global Talent Acquisition Team welcomes veteran candidates to learn more about our employment opportunities and collaborates annually with Army Civil Affairs to help veterans transition to the nonprofit sector.
Another important component of our veteran support system is the Veterans and Allies Resource Group (VALoR). One of several Employee Resource Groups at RTI, VALoR provides a professional network, active community, and development opportunities for its members. This inclusive group welcomes all RTI employees who have served in their respective countries' military forces, those who are still serving, and all employees who support them.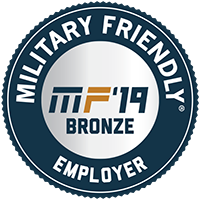 RTI is proud to be recognized by VIQTORY as a Military Friendly® Employer, and we endeavor to continue enhancing the veteran experience and provide even more opportunities for veterans to contribute to and excel at RTI.
A Few of Our Veterans Discuss Their Experiences at RTI
Keith McCarty, Senior Supply Chain Specialist
Keith McCarty served four-and-a-half years as an Infantry Officer in the U.S. Army. He is a combat veteran of Operation Iraqi Freedom, and led troops through an extended deployment to Baghdad from late 2006 to 2007. After transitioning from military service, Keith used the post-9/11 GI Bill to pursue graduate studies. During that time he discovered RTI and its work in international development. Keith joined RTI in 2014, and RTI has been an extension of his military service.
"At RTI, you're part of something bigger than yourself. Every day we're working to solve social challenges domestically and address the world's most complex problems in areas of international education, global health, and more. During my time at RTI, I've been surrounded by people who are eager to learn more about my experiences and who welcome individuals from diverse backgrounds, including veterans."
Melissa Hargraves, Senior Project Management Support Specialist
Melissa Hargraves is a Senior Project Management Specialist for RTI's Biostatistics and Epidemiology Division, supporting and managing contractual, administrative, and fiscal aspects of health research projects. In her 20-year United States Marine Corps career, Melissa worked in aviation logistics, achieving the rank of Chief Warrant Officer 3, signifying her technical expertise in this field.
"The work I do at RTI allows me to apply the logistics, data systems, and administrative knowledge I gained in the Marine Corps, while also providing me the opportunity to grow into other areas of interest such as the environmental, health, education research and not-for-profit sector senior-level project and administrative management."
Ward Sax, Senior Vice President, Treasurer and Chief Risk Officer
Ward Sax is a native of Salt Lake City, Utah. He graduated from the U.S. Naval Academy with a Bachelor of Science in Engineering and from the William E. Simon Graduate School of Business, University of Rochester with an MBA. Ward served a 21-year military career in the United States Navy and US Navy Reserve as a carrier naval flight officer, retiring as a Commander, USNR. His assignments included tours as mission commander Sea Strike Squadron Thirty-seven and strategic planning/staff officer Supreme Allied Commander Atlantic Forces (NATO). Ward joined RTI in August 1998 and was named RTI's Corporate Treasurer in 2000.
"Isn't it great that what we do every day at RTI makes a very real difference in the world? It was my privilege to serve our nation as a member of our armed forces and I am grateful for the opportunity to continue the tradition of service at RTI. The RTI family has warmly embraced our military veterans, and RTI has allowed us to continue to serve and to help make a difference in the world."