"What do you do for a living?" the U.S. Customs and Border Protection officer said after taking my passport in hand, likely sensing the weight of many extra pages and visas stamped into its well-worn cover.    
"International public health," I responded quietly, hoping that his questioning wouldn't go on for too long. I was exhausted after a long trip and just wanted to get home.
"Welcome back," he said, stamping my passport for re-entry into the United States.  
My passport is dirty, bent, and has probably picked up a few unrecognizable odors throughout the past decade.  It is hard to believe that it expires this year—2019.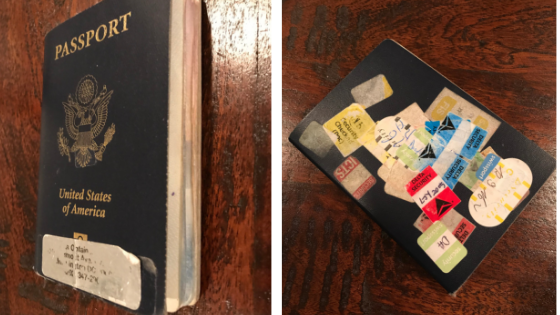 I vividly remember getting this passport in 2009, taking new photos, filling out the forms. All the while I was thinking that 2019 was so far in the future.  At the time, I was working in Atlanta at the International Trachoma Initiative—a program of the Task Force for Global Health, focused on the elimination of trachoma as a public health problem by the year 2020—more than a decade away!  In those days, the community was just beginning to think about data-driven, resource-based planning toward 2020 goals. Where would we be in 10 years? The trajectory at the time seemed aspirational, ambitious, but almost impossible to imagine.
A few years later, my trajectory shifted slightly too. I moved to Washington in late 2011 and started to deepen my knowledge about the other neglected tropical diseases (NTDs) through my work on USAID's ENVISION project, led by RTI International.
Back then, I don't think any of us could have imagined the progress we would see. Through ENVISION, we've had the opportunity to partner with national NTD programs, mapping nearly 1,500 districts, and supporting countries as they scale to provide more than 1.2 billion cumulative treatments in ENVISION-supported countries.  
More importantly, we've seen impact, with more than 70 million people no longer at-risk for trachoma and more than 200 million no longer at-risk for lymphatic filariasis (LF) in ENVISION-supported countries.
Since that time, I've had the privilege to visit many NTD programs and to see countries such as Nepal, Morocco, Ghana, and Vietnam—countries that I've visited with this very passport—eliminate LF or trachoma. As I stood in line at the passport agency to renew for another 10 years, I couldn't help but marvel at all the progress that has been made. It got me thinking, where will I go in the next 10 years with the new passport? What will the NTD accomplish by 2029?
While the future is impossible to know, here's what I'm hopeful to see in the next 10 years:
Integration of NTDs into national health systems—I'm hopeful we can support governments to integrate NTD programming into country-owned and sustainable platforms for implementation. This might be outside of our traditional ways, engaging new and different divisions within the ministry of health or ministries of education, for example. This is a stretch goal and it is going to require us to think, talk, and collaborate differently.
Continued and growing government leadership—Already, we have seen tremendous leadership from many NTD endemic countries. In the years to come, I'm hopeful that NTD efforts will gain even more visibility at all levels and across all sectors of national governments. This type of broad buy-in drives sustainability and is a crucial step for countries as they embark on their journey to self-reliance.
Greater diversity and inclusion—Our mission has always had equity at its core, but I hope we will see this come into sharp focus as we close in on elimination and those who are being left behind. On USAID's Act to End NTDs |East program we will be concentrating efforts on gender equity and inclusion. I hope that these efforts, along with the work of our many partners, will help us to identify and address those not being reached by NTD programming.  
NTD elimination—The elimination of trachoma and lymphatic filariasis is already happening in many countries, with many others to follow. The Americas also provided proof that onchocerciasis elimination is possible, and I suspect we will see growing traction in the years to come. As former Carter Center staff and a returned Peace Corps health volunteer, I'll add Guinea worm eradication here, as it was the work that started it all for so many of us.
Sustaining global health gains—Elimination of NTDs as a public health problem is a noble goal but sustaining these tremendous public health gains is the ultimate test. I'm hopeful the efforts of the emerging leaders in Asia will provide us tangible examples of the pathways to success.  Sustained political will, robust health systems, and cross-sectoral collaboration, will be critical to this success.
If the previous decade is any indication, the next phase of the fight to end NTDs is going to be even more exciting. As we build and reshape, I'm certain we can take on the next set of challenges. The way we continue to evolve and innovate is one of things that excites me most about our work and our community.