It's not an ambiguous, hollow threat. It's not a distant danger. It's real, it's now, and it's affecting thousands of people. Throughout Kenya, climate change has brought everything from major droughts in Ewaso N'giro to devastating floods in Embu. However, the most damaging impact of climate change is the looming dark cloud that is prevalent every day: uncertainty.
Uncertainty may sound exhilarating for some, but not for a farmer in Nanyuki who doesn't know if he'll get enough water for his maize this year. Or a child in Kisumu who depends on that farmer's success in order to eat next month. For hundreds of years, families in East Africa have relied on the consistency of the rainy seasons for agricultural production. Rainfed agriculture is the pillar of economic development in East Africa. As climate change brings more variability and more extreme weather events, it also brings hunger, destroyed livelihoods, and the threat of conflict.
The devastation does not stop there. Severe drought episodes will not only lead to widespread famine but will also increase community conflicts driven by competition for scarce water and pasture resources. On the other end of the spectrum, the danger to human safety from floods is just the initial impact. Flooding also increases conflict with wildlife and results in more incidences of water borne diseases.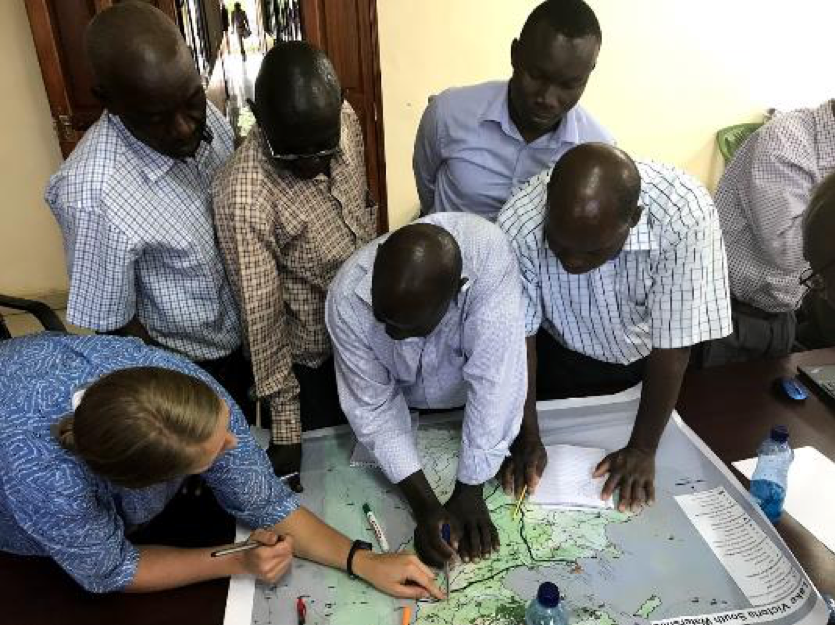 So, what can we do? To combat the uncertainty that climate change brings, we need to be both the most hopeful optimists and the most pragmatic pessimists. We must be proactive and plan for the long-term by setting lofty, coordinated goals to reduce emissions and curtail global temperature increases, of course. But we must also simultaneously react to the current situation in real-time.  At the local scale, we must work with communities to immediately increase adaptation capacity to deal with the contextual changes that are already happening and will continue to happen.
The first step to fostering immediate resilience is to empower people in the impacted communities. How? By creating tools that turn data into knowledge and knowledge into practice. As part of the Kenya Water Security and Climate Resilience Program, RTI International is working directly with the Kenya Water Resources Authority (WRA) and the Kenya Meteorological Department (KMD) to produce seasonal water supply forecasts for the entire country. This includes drought forecasts, medium- to short-term flood forecasts for flood-prone basins, and a real-time basin monitoring system.
The seasonal water supply forecasting system generates a weekly report about the total water volume throughout the country over the next 9 months. This information can then be easily disseminated to the public for planning purposes. Farmers can use it make decisions about what types of crops to plant to maximize agricultural production or anticipate droughts; communities can plan their water storage to maximize water security; and we can have a better understanding of the long-term trends expected to continue throughout Kenya.
The short-term flood forecasting system and the real-time basin monitoring system allow for authorities to quickly access the state of reservoirs, dams, and rivers to provide important information such as current flows and flood warnings to the general public. Pilot SMS alert notifications are being developed to directly warn people who might be in danger. Early awareness of large rainfall events allows the Government of Kenya to mobilize resources and optimally operate reservoirs for flood protection.
It all comes back to the battle against uncertainty. We might not know exactly what climate change will bring in the next 10, 50, or 500 years, but we can translate hydrologic data into actionable decisions to mitigate as much uncertainty as possible. We can help the farmer better plan his cropping schedule. We can help the people in flood zones evacuate their families in time. And we can help avoid conflict by providing knowledge about upcoming droughts and water stress. RTI is proud to work hand in hand with WRA and KMD to increase Kenya's water security and climate resiliency.
President Uhuru Kenyatta viewing the real-time water level monitoring portal developed by RTI International.