RTI is participating in the Virtual AIHce EXP 2020. This year's event will be available entirely online, with multi-track session broadcast, chat, interviews, and profesisonal development courses. Three presenters will represent RTI at AIHce EXP 2020:
RTI and AIHA: A proven partnership in industrial hygiene
RTI has a long relationship AIHA and its partner LLCs in the proficiency testing (PT) field, as an accredited laboratory and as a consultant in technical initiatives related to emerging technologies and IH education. RTI serves as a PT fulfillment contractor for multiple programs (beryllium, environmental lead, bulk asbestos and industrial hygiene) and has partnered with AIHA in generating bodies of knowledge pertaining to focused areas of industrial hygiene practice.
RTI worked closely with AIHA to develop a scalable process for developing concise bodies of knowledge to support educational product development and competency assessment. A departure from a traditional all-volunteer, in-person approach to developing intellectual property, the new process was highlighted in The Synergist. AIHA Bodies of Knowledge, including those facilitated by RTI are available on the AIHA website.
RTI consulted with AIHA on the future of sensors in industrial hygiene and facilitated a Sensor Summit to address the accelerated use of sensors in industrial hygiene. The Future of Sensors report was gifted by AIHA in order to further the AIHA's Guideline Foundation mission of delivering research intended to educate the public about protecting worker health.
AIHA Laboratory Accreditation Programs, LLC (AIHA-LAP, LLC) allows for the use of RTI calibration standards as a substitute for the asbestos SRMs that are no longer available from NIST (SRMs 1866 (common commercial asbestos) and 1867 (uncommon commercial asbestos). Click here for more information and to order materials.
Accreditations:
RTI's numerous accreditations are evidence of our robust quality systems and adherence to established U.S. and international quality standards.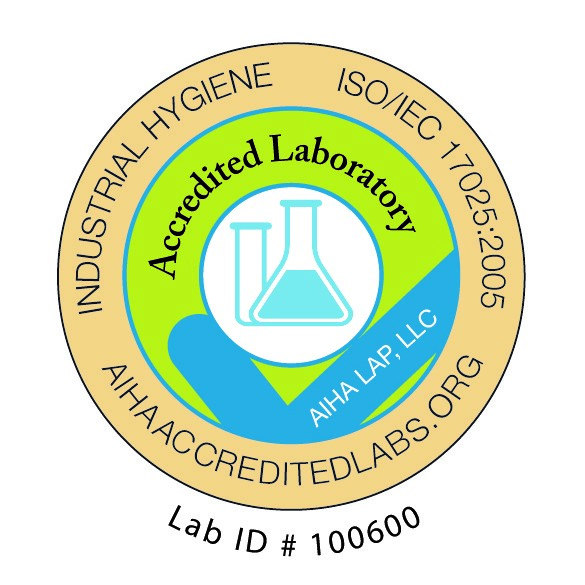 Accredited industrial hygiene and environmental lead laboratory—Accredited by AIHA Laboratory Accreditation Programs, LLC (AIHA-LAP, LLC) in the Industrial Hygiene Laboratory Accreditation Program (IHLAP) and Environmental Lead Laboratory Accreditation Program (ELLAP) for the analysis of metals, silica, and asbestos. IHLAP scope of accreditation includes spectrometry core (ICP-AES, XRD) and a fiber microscopy core. ELLAP scope of accreditation includes fields of testing for paint, soil, settled dust by wipe, and airborne dust. Laboratory #100600.
Certified groundwater/wastewater laboratory—Certified for inorganic and metals parameters, NCDEQ Division of Water Resources Laboratory Certification Branch. Certificate #687.
Certified drinking water laboratory—Certified for metals, North Carolina Department of Health and Human Services Laboratory Certification. Laboratory #37913.
Accredited air emissions laboratory—Louisiana Environmental Laboratory Accreditation Program/National Environmental Laboratory Accreditation Program (LELAP/NELAP) accreditation for the determination of particulate matter and trace metals in ambient air. LELAP Certificate #04017
Accredited reference materials producer—ANSI-ASQ National Accreditation Board (ANAB) accreditation as a reference material producer under ISO Guide 34:2009 for drugs in urine, oral fluid, and serum. ANAB Certificate #AR-1984.
In addition, our familiarity and compliance with regulatory requirements, such as GLP and cGMP/GMP, engenders confidence in our analytical data.